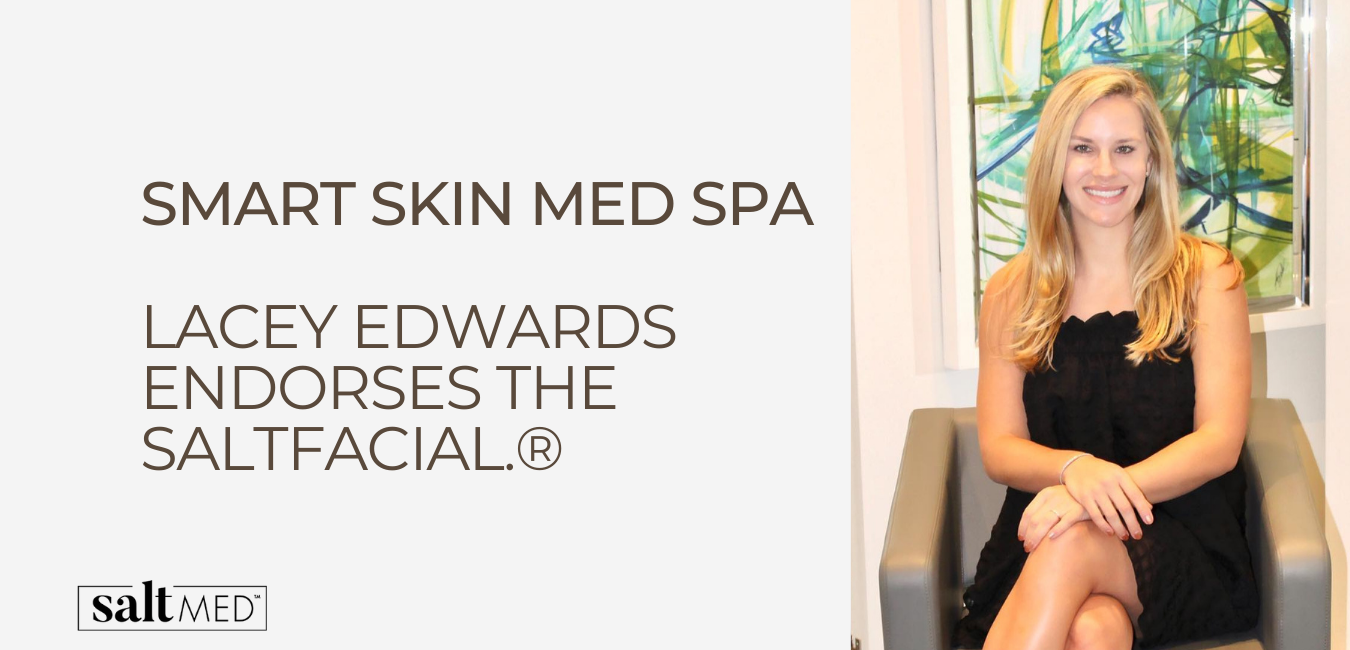 Smart Skin Med Spa Lacey Edwards Endorses The SaltFacial
Smart Skin Med Spa in Birmingham, Alabama, is a medical spa offering the latest technology in anti-aging treatments for the face and body, as well as acne treatments and injectables. Lacey Edwards, the office manager at Smart Skin Med Spa, has a unique understanding of the medical spa clients' needs because skincare business runs in her family. 
Her mother initially started Smart Skin Med Spa in a smaller location, but the business eventually moved to the large quarters it occupies now. Smart Skin Med Spa now employs 11 full-time estheticians in its 3,500 square feet building and offers a membership program that currently has 900-1,000 members. 
"Smart Skin Med Spa performed 600 SaltFacial treatments within 5 months of purchasing the technology."
In addition to being voted one of the top three spas in Birmingham, Alabama, what sets Smart Skin Med Spa apart is that they have performed over 600 SaltFacial treatments since purchasing the technology in June of 2021. In this article, Lacey Edwards shares Smart Skin Med Spa's approach to advertising The SaltFacial and offers a look at their preferred use of the technology. 
Why Smart Skin Med Spa Chose To Purchase The SaltFacial
Lacey Edwards explains that they've been using a combination of treatments that had parts of what The SaltFacial offers. When one of the technologies became discontinued, they began looking into purchasing a machine that would allow them to continue doing their combination treatments. 
"The SaltFacial is definitely a quality device and a device that we've been researching for a couple of years now."
When they discovered The SaltFacial, they were pleasantly surprised that the machine had all the treatments they were looking for under one platform. In addition, she says it was even better than they expected because The SaltFacial offered a medical-grade LED lights step.
"We are always researching and trying to have the latest and greatest technology, and we always utilize everything that we have to the fullest," shares Lacey. Once they added The SaltFacial technology to their Med Spa, it quickly became a popular treatment. Lacey reports that The SaltFacial machine is used every day and, in many cases, multiple times per day.
"The SaltFacial was an easy transition to everything else that we currently offer, and our clients love it. It's definitely one of our top favorite treatments that our clients and aestheticians like to have done."
The Popularity of The SaltFacial at Smart Skin Med Spa
Because Smart Skin Med Spa has a membership program, it has a built-in loyal clientele that trusts the staff's recommendations. "Our clients trust us and know that everything that we bring in is going to work, and it's not just a gimmick or a fad and that we have really good quality devices," shares Lacey. 
Smart Skin Med Spa allows their monthly membership fee to be applied to deluxe services like The SaltFacial, and many clients take advantage of that offer. "Clients are usually coming once a month and choosing The SaltFacial for a couple of months as their option and then paying the difference from their membership." Because members have been coming in for years and have a good relationship with the estheticians, they listen when The SaltFacial is recommended and come in for treatment. 
The SaltFacial and Other Product Sales
Lacey says that The SaltFacial is suitable for all her client's skin types, with many of them coming in to try the exciting new technology at the Med Spa. Lacey shares that they've been so busy performing the full SaltFacial treatment that they don't often offer its modalities as separate procedures. Although, she says they will use the LED light option for clients that may bruise easily after fillers. And recently, an esthetician used the LED light option to help reduce inflammation in a client who was bit by a spider. So it is not out of the question to amplify the appeal of other treatments by adding The SaltFacial into the mix.
The SaltFacial has also helped the sale of Neocutis products. "When our clients do their service, our esthetician will write down what they did that day as well as any products they talked about." The products are then available for purchase at the front desk when the clients check out. And they often purchase the Neocutis products that were recommended during The SaltFacial treatment.
Overall, Lacey is happy with The SaltFacial and says she would recommend other practices to purchase it. 
*Results, testimonials, and statements are provided directly from Physician or Healthcare Provider and patient, and not from SaltMED company.
Learn More About The SaltFacial Device
The SaltFacial is a three-step treatment for ultimate skin rejuvenation anywhere on the body, and it's safe for any skin type. You can expect a real, long-lasting change for beautiful, healthy skin! To find out more about The SaltFacial and if it's right for your practice, please
contact us
today.