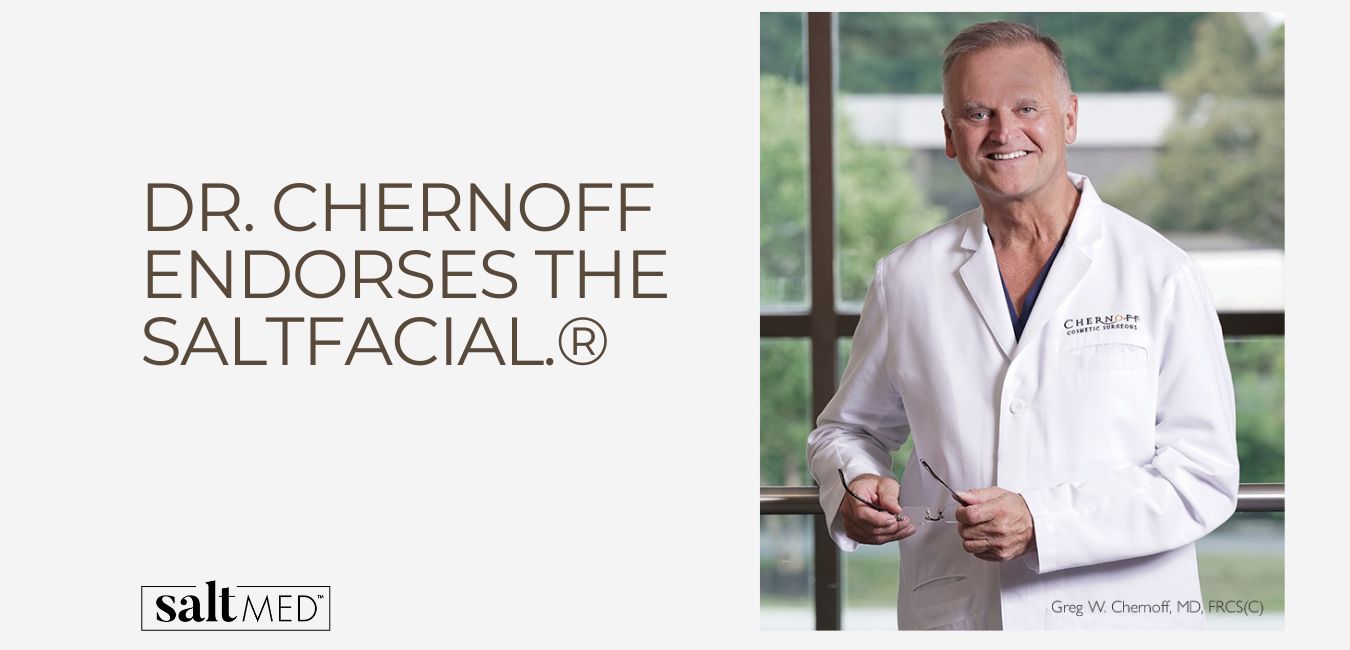 Chernoff Cosmetic Surgery Dr. Gregory Chernoff Endorses The SaltFacial
Dr. Gregory Chernoff is a triple board-certified plastic and reconstructive surgeon. He has authored numerous scientific papers and medical laser textbook chapters and has been featured on popular news programs, such as Dateline NBC, ABC, and CBS Nightly News, BBC World News, and in Time, Newsweek, and W Magazines. 
Here, Dr. Chernoff shares how he utilizes The SaltFacial in his practice and the effect The SaltFacial has on the post-surgery healing time of his patients. 
Chernoff Explains What Sets The SaltFacial Apart
Because of The SaltFacial's unique multimodality utilization, it has quickly become the most used piece of equipment in both of Dr. Chernoff's offices. Dr. Chernoff estimates that The SaltFacial machine runs 8 hours a day, 6 days a week, making an incredible return on investment. Because the cost of consumables is very low and the use of The SaltFacial machine is so high, it has paid for itself again and again since its purchase. 
How Dr. Chernoff Utilizes The SaltFacial in His Practice
Dr. Chernoff sees both surgical and nonsurgical patients at his practice. Some of his patients come in with a complaint that they don't look as young as they feel. These patients are looking for something safe that would help them turn back the clock. Dr. Chernoff recommends practicing what is called "preventative aesthetics" and "maintenance aesthetics" to help his patients reach their goals. 
The most common non-surgical issues for which Dr. Chernoff uses The SaltFacial include:

Skin quality (fine lines, loss of elasticity, pores, color, clarity)

Acne

Acne scars

Pigment variation

Rosacea

Eczema
Dr. Chernoff also recommends using The SaltFacial as a post-operative treatment for his patients. 
"The number and the intensity of LED lights in The SaltFacial is unlike any other technology."
He uses The SaltFacial's medical-grade LED lights to speed up recovery after surgery and treat post-surgery infections.
Dr. Chernoff shares that using The SaltFacial in conjunction with surgical procedures improves the following:
Scar quality

Healing time

Post-transplant hair growth
Dr. Chernoff says utilizing The SaltFacial technology improves his patient's healing time, they now look the same one month after surgery as they previously would six months after surgery. 
Foundation for Survivors of Violence
In addition to his practice, Dr. Chrnoff also runs the "Foundation for Survivors of Violence." The foundation's mission is to bring compassionate care and healing to victims suffering from painful physical injuries or disfigurements caused by violence or abuse. 
Dr. Chernoff volunteers his time to treat individuals who have been attacked and assaulted and sees a lot of patients with knife wounds or wounds caused by blunt force. Dr. Chernoff notes that using The SaltFacial's ultrasound component post-surgery drastically improves outcomes of scar therapy, helping survivors of violence recover more completely.
The SaltFacial's Effect on Skincare Product Sales
Dr. Chernoff recommends combining nitric oxide with The SaltFacial treatment to stimulate and increase absorption. Dr. Chernoff also uses exosomes, which are FDA approved for topical use, followed by nitric oxide, and then topical products of choice. 
He says sales of Neocutis and Alastin have both benefited from The SaltFacial. This works because his practitioners use The SaltFacial treatment time to go through a specific prewritten script that describes all of the practice's available skincare products and services. 
The SaltFacial is Suitable for the Majority of Patients
"Any aesthetic practice is missing out on a very healthy offering for their patients if they haven't employed The SaltFacial in their arsenal of what they use for their patients."
Dr. Chernoff's practices see a wide variety of patients of different ages, skin types, and ethnicities benefit from The SaltFacial technology. One of the exceptional benefits of The SaltFacial is that it can be used on any skin type. This is particularly useful for Dr. Chernoff's practice because of his continuous research and FDA studies of products and technologies for all skin types. 
The SaltFacial's Visible Results
Dr. Chernoff also uses QuantifCare 3D aesthetic photography to capture patients' skin pre- and post-treatment. The improvement of pore size, pigmentation, wrinkles, and oiliness can be seen in the after photos, which Dr. Chernoff says is a tremendous plus in patient satisfaction. 
Chernoff Endorses The SaltFacial 
Dr. Chernoff says that his patients are not the only ones who love it. "All of my estheticians and nurses have used The SaltFacial, and they love it." He continues by saying that he certainly recommends The SaltFacial to any practice that's thinking about acquiring the technology. 
*Results, testimonials, and statements are provided directly from Physician or Healthcare Provider and patient and not from SaltMED company.
Learn More About The SaltFacial Device
The SaltFacial is the only Class 2 Medical Facial treatment platform on the market and is a popular treatment amongst all age groups. With The SaltFacial's immediately visible results, it is quickly becoming a client favorite. To out more about The SaltFacial and if it's right for your practice, please contact us today.