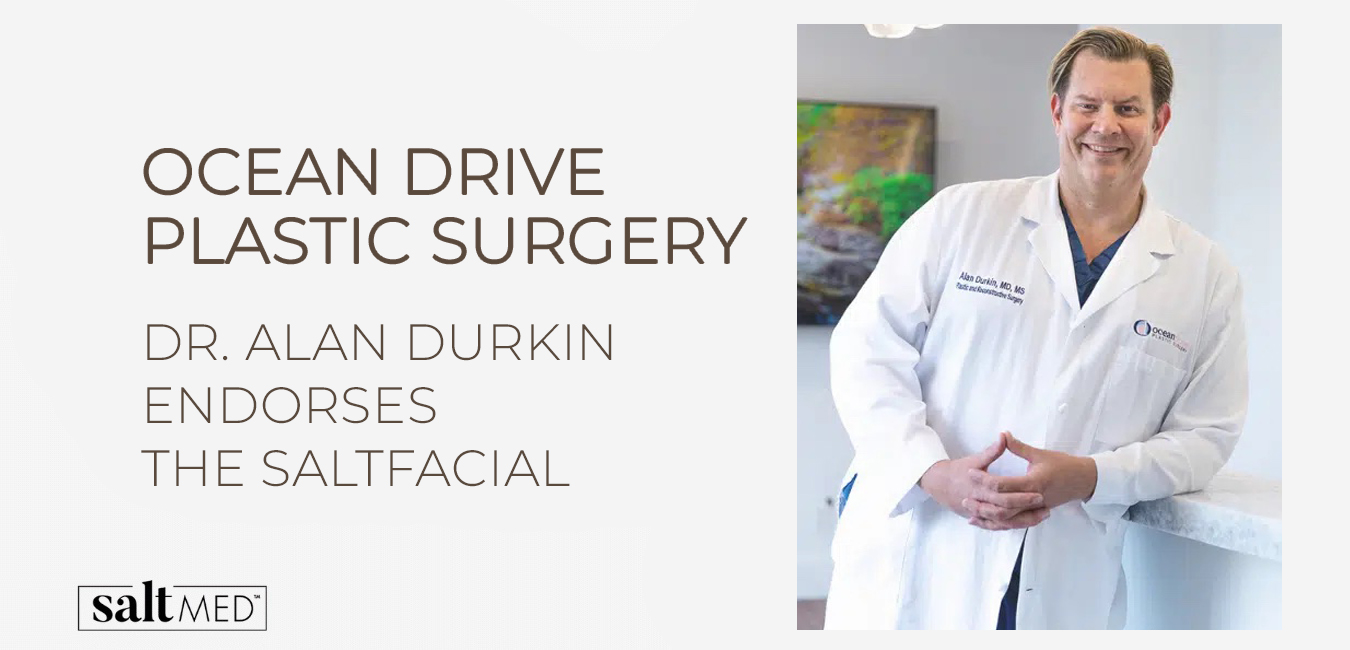 OCEAN DRIVE PLASTIC SURGERY: Dr. Durkin Endorses The SaltFacial
Dr. Alan Durkin is a Board-Certified Plastic & Reconstructive Surgeon and owner of Ocean Drive Plastic Surgery, Dermatology, and MedSpa, a private surgery center that combines style and elegance with a state-of-the-art surgical facility in a warm and welcoming office environment.
Although Dr. Durkin has only had The SaltFacial device at his practice for six months, he already notices that a large portion of his patients are coming back for another treatment. Dr. Durkin is excited about introducing The SaltFacial to more of his clients and anticipates that the organic growth in its popularity will continue to rise. 
In this article, Dr. Durkin shares why he chose The SaltFacial technology for his practice and talks about his return on investment. 
Why Dr. Alan Durkin Chose The SaltFacial for His Practice
Dr. Durkin finished a 17,000 square feet build-out of his practice this year, and with that expansion, he says he was very intentional with the direction his growing practice was taking. "We made the conscious decision that we were going to bet on the future," Dr. Durkin explained. 
While looking at various other brand facial technologies, Dr. Durkin ultimately decided to purchase The SaltFacial because he believed that facials should be experiential. He tried several facial technologies himself and said The SaltFacial delivered both a pleasurable treatment and visible results. 
"My expectations from The SaltFacial were to have people notice a difference that equilibrates with the price point of the treatment," explains Dr. Durkin. "And I felt the results of The SaltFacial myself. That adds value, and it keeps the clients coming back." 
    "The SaltFacial has a super fantastic packaging of three well-proven modalities."
Additionally, Dr. Durkin says that The SaltFacial has a great packaging of three well-proven modalities. The LED and the exfoliation components are especially popular with his clients, he says, because it makes them feel like there is real intervention. 
The SaltFacial Treatment for Special Events
Dr. Durkin has a surgical practice, so many patients he sees come in looking to get a fresher, more rejuvenated appearance. If these patients are not ready for surgery, Dr. Durkin's practice automatically diverts them to The SaltFacial, because he knows it will give his patients what they need. 
    "We're not in the business of selling procedures; we're in the business of selling results."
This is especially true for his patients who are looking to look refreshed for a special occasion. Dr. Durkin has them come in for The SaltFacial treatment four days before the event, and they all report that they love their photos. The same result wouldn't be possible with lasers because of the downtime they can require. 
Return on Investment
Dr. Durkin says that the return on the investment on The SaltFacial is radically improved compared to other technologies because of the low price of consumables. With consumables being much more reasonably priced than other technologies, Dr. Durkin feels that The SaltFacial is an easy platform to onboard. 
Short term, Dr. Durkin plans to stimulate The SaltFacial with some increased marketing and advertising. And after that, he anticipates sustained, organic growth. "I don't think it's going to be a difficult platform to pedestalize, nor do I think it's a difficult narrative to deliver. I anticipate that it will continue growing as a stand-alone treatment and become a cornerstone of our maintenance protocols." 
*Results, testimonials, and statements are provided directly from Physician or Healthcare Provider and patient and not from SaltMED company.
Learn More About The SaltFacial Device
The SaltFacial is the only Class 2 Medical Facial treatment platform on the market and is a popular treatment amongst all age groups. With The SaltFacial's immediately visible results, it is quickly becoming a client favorite. To out more about The SaltFacial and if it's right for your practice, please contact us today.