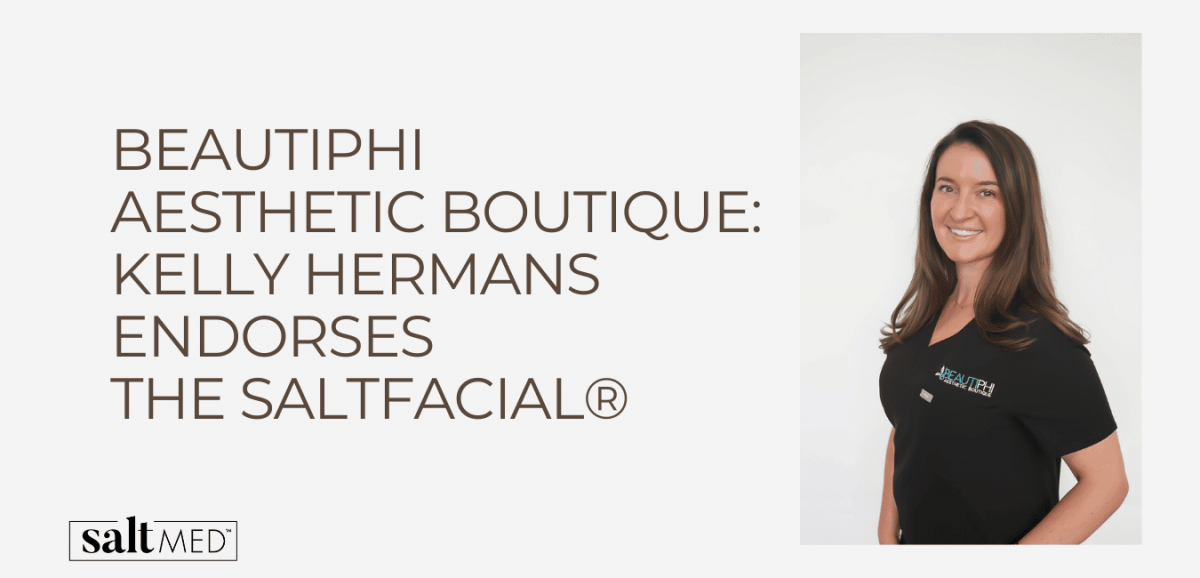 Beautiphi Aesthetic Boutique: Kelly Hermans Endorses The SaltFacial
With cutting-edge technology and techniques, Beautiphi Aesthetic Boutique has made quite a name for itself in the Rochester Hills, MI, area. Kelly Hermans, CRNA, is the founder of this med spa and a nationally recognized leader in training for the non-surgical and body rejuvenation market. Kelly is passionate not only about leading her patients to confidence, but she also loves helping other aesthetic practices like hers succeed. 
One medical aesthetic device that Kelly has seen positively impact Beautiphi is The SaltFacial. Beautiphi Aesthetic Boutique has positioned this powerful skin renewal treatment as an incredible asset to their business. Learn more about what nationally-known aesthetics and injectables trainer Kelly recommends to make The SaltFacial a competitive advantage at your practice.
The SaltFacial is the Perfect Add-On To Any Treatment
With three unique treatment steps, The SaltFacial is a multi-functional device that can be used on its own and in addition to other treatments. From RF microneedling to erbium laser resurfacing, The SaltFacial's three technologies and natural sea salt enhance results and are safe and effective for all skin types. 
"The device is so malleable, I can use it with so many other treatments," Kelly says. "Whatever you're doing, you can add The SaltFacial."
Of course, pairing The SaltFacial in a pre-treatment or post-treatment helps the patient achieve radiant skin. However, this technique also significantly benefits an aesthetic practice's bottom line.
"With The SaltFacial, we've been able to decrease a laser procedure time and cut numbing time in half," Kelly says. "It's made such a difference in our time units, and in turn, our profits."
Use The LED Light Therapy Every Day
While The SaltFacial medical-grade technology embodies this three-step treatment, each step of the device can be utilized as a standalone. The LED phototherapy step alone is a great way to enhance results and give patients a glowing complexion.
 
"We use the LED phototherapy from The SaltFacial every single day," Kelly says. "It's a great way to reduce redness and have clients feeling great when they leave."
With four unique modes, you can use LED phototherapy to not only reduce redness, but to target acne, increase the healing rate, and encourage collagen production. Adding a quick light therapy treatment to your patient's skincare routine makes the patients look and feel great. But even more, this treatment is a low-cost way to set your practice up with a reputation for top-tier service and long-lasting results.
Retain Clients With The SaltFacial Packages 
At Beautiphi, Kelly and her team recommend once-a-month treatments of The SaltFacial to their clients to maintain glowing, healthy skin. For clients struggling with clogging pores or acne, Kelly recommends twice-a-month treatments. Then, with an exclusive The SaltFacial package from Beautiphi, clients can get a members-only deal on their organic sea salt treatments. As a result, the med spa profits from maintaining long-lasting relationships with their clients. 
Teenage boys struggling with acne, as well as their mothers who need an anti-aging skin care routine, love coming into Beautiphi for The SaltFacial. It only takes one treatment to experience the advanced results for smoother, healthier, and clearer skin. 
"The SaltFacial has proven itself time and time again," says Kelly. "There's nothing like it on the market!" 
Learn More About The SaltFacial Device
The SaltFacial is the only Class 2 Medical Facial treatment platform on the market and is a popular treatment amongst all age groups. With immediately visible results of glowing skin, it quickly becomes a client favorite. To find out more about The SaltFacial and if it's right for your practice, please contact us today!