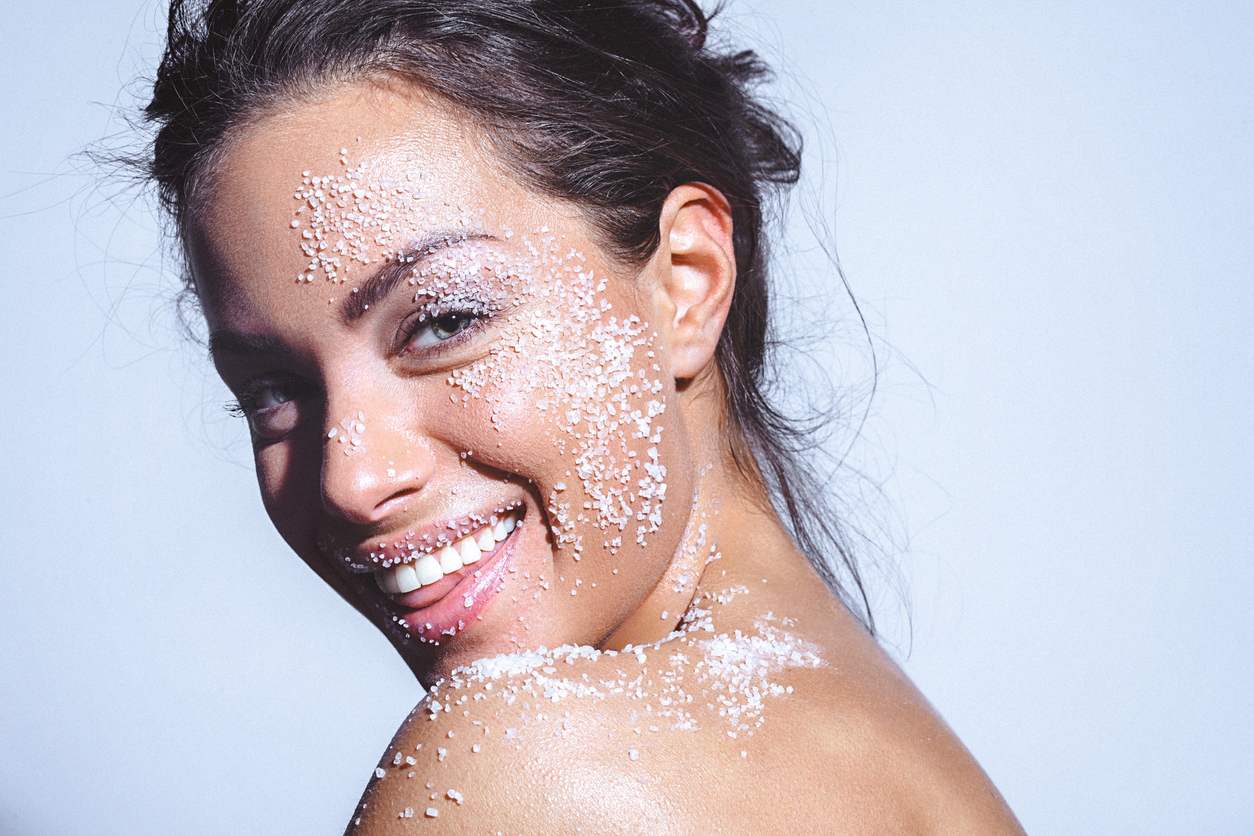 The Science Behind Sea Salt
There is no surprise that people who spend time at the beach notice an improvement in their skin. Sea salt, an ever-present component at any ocean or sea beach, can do wonders to help heal, cleanse, and restore the skin. Organic sea salt contains many minerals and nutrients that can be beneficial for the skin.
Let's find out more about sea salt, how to use it, and its effects on the skin.
What is Sea Salt?
When seawater evaporates, it leaves behind sea salt. Sea salt can be used as a seasoning in foods, cooking, preserving foods, and skincare. Sea salt is very different from regular table salt because it contains numerous skin healing minerals like magnesium, calcium, and potassium. 
Our bodies contain the same concentration of nutrients and minerals as seawater, which is why sea salt is so helpful in balancing, protecting, and restoring the skin tissue. Here are some of the ways sea salt and the SaltFacial treatment can be beneficial for your skin:
Cleanser
Take time to refresh and renew. Sea salt helps to deep clean the pores and balance oil production. This helps prevent acne and stops breakout-causing bacteria from forming in the pores. The deep cleaning also helps retain moisture from within, making the skin fresh and supple.
Exfoliation
A sea salt facial works great for maximum exfoliation. All natural sea salt is a great natural exfoliator because it blasts away dead skin cells while also nourishing the skin with minerals and helping restore hydration. Deep exfoliation promotes new healthy skin production and improves texture. Freshly exfoliated skin is also better at absorbing serums and moisturizers, so it's a step that individuals should not skip.
Hydration
Sea salt cleanses and exfoliates the skin and provides hydration to the deeper layers of the skin. In addition, sea salt also zaps excess oils from the skin's pores and helps to maintain moisture balance in the skin.

Sea Salt for Inflammation
Sea salt is often used to help decrease the skin's dryness and inflammation. Soaking the skin in saltwater could help provide relief from redness and irritation after even just one treatment. Sea salt could also be a helpful tool in dealing with eczema. In fact, the National Eczema Foundation recommends using sea salt soaks to relieve red and itchy skin associated with the condition.
Implementing Sea Salt in Beauty Regimens
There are many ways to incorporate sea salt into any beauty regimen. Many products are formulated for hydration, exfoliation, or helping with inflammation and irritation. However, only The SaltFacial provides a multi-modal innovative skin treatment that does all of the above.
The SaltFacial Benefits
The SaltFacial can restore the skin's natural beauty with sea salt, replenish vital nutrients within the skin's layers with deep penetrating ultrasound, and promote healing and reduce skin redness with high-powered LED phototherapy. (Clinical studies have shown LED light therapy can be used to treat acne and acne scarring, delivering amazing results and finally healing stubborn problem areas.)
Additionally, the SaltFacial device is the first and only technology combining pure organic sea salt with LED light therapy. The SaltFacial's multi-modality system works on all skin types. It can provide help for the following skin conditions: 
Acne

Acne Scarring

Sun Damage

Stretch Marks

Enlarged Pores

Eczema

Psoriasis

Uneven Texture

Uneven Pigment

Vascular Lesions

Preventive treatment for fine lines and wrinkles
The SaltFacial brings out the best in any type of skin. It is an innovative and all-natural therapy that nurtures genuinely healthy and glowing skin, treats acne, and promotes collagen production and collagen reformation.
Learn More About The SaltFacial Device and SaltFacial Skin Renewal Therapy Options
We can help you develop a skincare routine that delivers hydrating antioxidants and uses natural sea salt exfoliation to accelerate healing and reveal beautiful skin!
Together, sea salt, ultrasound, and LED phototherapy can help to restore and balance the skin. If you are interested in learning more about The SaltFacial and how it can help maintain healthy skin, contact us today.