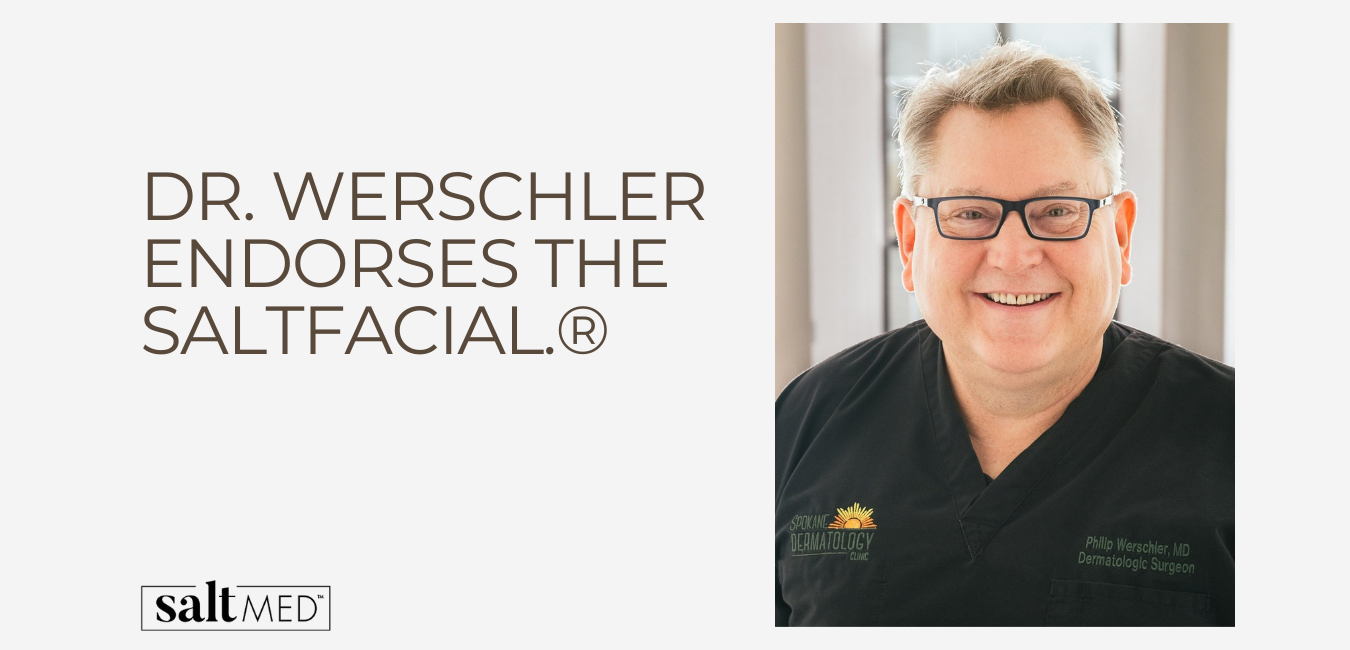 Dr. Werschler Endorses The SaltFacial
Dr. Werschler is a world-renowned expert in medical and cosmetic dermatology with an office in Spokane, WA. His practice, Spokane Dermatology Clinic, offers the newest and most progressive products, procedures, lasers, and energy devices for skincare and enhancement through their medical spa, W Aesthetics. 
As early pioneers in the dermatology and cosmetic medical industry, Dr. Werschler and his practice understand the importance of providing the widest range of lasers, devices, and medical-grade skincare for their clients. That is why Dr. Werschler was excited to add The SaltFacial to his medical spa. Here, he explains why he chose The SaltFacial over other technologies and how The SaltFacial has elevated his business. 
Innovation
Dr. Werschler regularly contributes to numerous studies, lectures, and publications in the field of Dermatology and serves as an FDA investigator for clinical trials. Because of his reputation, he often receives patients looking for treatment with more challenging dermatological conditions who expect to be treated with reputable technology.  
"Because of all the research we do, we are often the first to introduce new technologies, whether in disease or desired dermatology," Dr. Werschler told us. "That's our reputation." 
When choosing a new machine to add to his practice, Dr. Werschler was drawn to The SaltFacial because of its innovative multi-functional technology. 
"People come to us because they believe that we hold ourselves to a higher standard, have more advanced technology, know what we are doing, and are able to treat tougher conditions."
Compared to other brand facial machines, Dr. Werschler found that The SaltFacial stood out because it couldn't be easily found in less medically inclined med spas, setting it up as a highly regarded technology. The messaging behind The SaltFacial is clear, Dr. Werschler says, and its benefits are backed with science-based evidence. That evokes interest and trust from patients, who expect that level of treatment at his practice. 
Reputability
Dr. Werschler has been instrumental in the development of many FDA-approved drugs and devices. As such, he has a clear understanding of what makes a reputable, marketable, and effective technology. He first began looking into The SaltFacial when he became aware of its partnership with Merz Aesthetics. That partnership, he says, is sure to invoke trust from patients and Physicians or Healthcare Providers alike. 
The SaltFacial, he says, is also interesting to his client base because of its popular components like sea salt and LED. 
"I like the concept of salt; it is one of the original antiseptics. I like that you can combine it with the LEDs. Patients respond to it." 
The SaltFacial also provides high-powered LED phototherapy, which is FDA-approved and incredibly beneficial. Not to mention, very popular among Dr. Werschler's patients.
Marketability
Drawing from his extensive clinical experience, Dr. Werschler is quick to note the unique and beneficial properties of The SaltFacial that make it an easy sell to patients. 
"Anything you can do to smooth, tone, and buff the skin," says Dr. Werschler, "will leave skin looking better." Like other forms of light skin exfoliation, sea salt exfoliation changes how light reflects on the skin, making it look better, more glowing, and healthier. Patients can see this change immediately and are able to walk away feeling good about their treatment. 
"With The SaltFacial, the patient's subjective satisfaction is high. People like it; there is a belief in salt. People talk about the Dead Sea; it's iconic." 
Dr. Werschler believes that people have heard of the scientific benefits of sea salt, and they are interested. "It makes The SaltFacial a popular and effective treatment. It fits into a paradigm that sea salt is good, it's natural, it's antiseptic. The procedure itself, which boosts it with LED, produces a high satisfaction rating." 
Dr. Werschler is happy with his purchase of The SaltFacial technology and would recommend it to other practices. 
*Results, testimonials, and statements are provided directly from Physician or Healthcare Provider and patient and not from SaltMED company.
Learn More About The SaltFacial Device
Are you considering adding new technology to your practice? The SaltFacial is a multi-platform technology that uses sea salt, ultrasounds, and LEDs to produce immediately visible results. Learn more about The SaltFacial, its effectiveness, and its popularity by contacting us today.